We've been asked, "What exactly goes into testing tank quailty?"  Most people don't know how much work and effort goes into properly measuring the quality and durability of the finished product.
We are equipped to perform the following tests:
Compare finished product to design engineering and drawings to ensure correct specifications
Radiography to inspect welds in heads, shell, nozzles, etc.
Ultrasonic testing to measure thickness and detect any potential defects
Magnetic particle testing to inspect carbon steel welds and verify integrity
Dye penetration testing to check surface breaking defects
First article inspection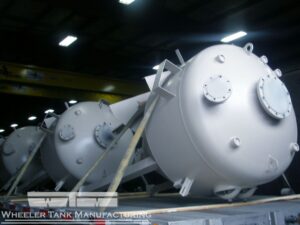 We are members of many organizations that promote 'best practices' in all areas of engineering standards.  We are members in good standing with the following:
American Society of Mechanical Engineers – A.S.M.E.
National Board Registration
 American Welding Society – AWS
Standard Construction
The following type of materials are available:
Carbon Steel
Stainless Steel
High Alloy Steel
We use the following equipment for material handling:
Overhead Bridge Cranes
Forklifts
Jib Cranes
Turning Rolls
Call or e-mail us for a quote on your next project!